We are all about the Experience!
Since opening its doors in 1995, The Burrito Bar restaurant has been an innovative and integral partner in the West Brighton Community. We feel that our relationship with our neighbors and customers is one of the most important parts of the puzzle that makes us successful. We strive, on a daily basis, to serve fresh amazing food, provide an unforgettable atmosphere, create a unique experience, and make our guests feel like they are part of our family. Our food is created 100% from scratch, lovingly prepped on a daily basis, using the freshest ingredients and most authentic methods. Our cocktails are built from the bottom up, with fresh juices and fruits, and expertly prepared by our trained Drink Smiths. Our atmosphere and physical space is constantly being reinvented and improved, while always remembering our roots and why our customers are so loyal. Imagine a VW bus on a road trip traveling from Woodstock to Mexico!
Often, we are the first to try new things, experiment with fresh ideas, and think outside the box. We understand that we are able to do what we do because we have the coolest customers that go along with us for the ride!! Our goal is to help our guests relax, unwind, and share memories and fun. To infuse some sunshine, color, and a little piece of Mexico into everyday life. We will continue to strive to be both excellent and fun, and exciting and familiar. Our promise to our valued clientele is that we will continue breaking barriers, serving the best product we can serve, and never forgetting that it's you, our Burrito Bar groupies, that are the backbone of our success.
Peace, Love, and Mexican food!
Kim and The Burrito Bar staff
Open Hours:
Kitchen Hours:
Sun thru Tues-11:30am to 10pm
Weds and Thurs-11:30am to 11pm
Fri and Sat-11:30am to Midnight
Bar Hours:
Sunday thru Tuesday-11:30am to 11pm
Weds and Thurs-11:30am to Midnight
Fri and Sat-11:30am to 2am
Specials
There is always something cool happening at the Burrito Bar!
Hippie Hour
Appetizers and discounted Margaritas?? Heck yeah!
Join us Monday thru Friday from 2pm-7pm for outstanding drink and food specials!
Date Night
For all you lovebirds out there, enjoy a date night "IN"!
All you need for a romantic dine-in (or wherever you want to be) for just $70.00 per order.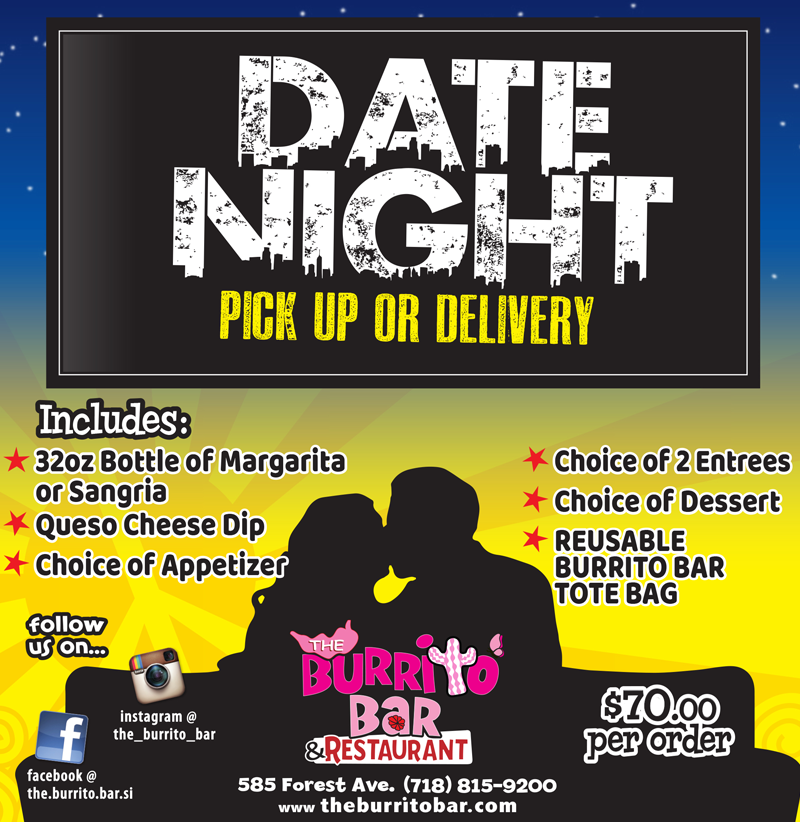 Econo-Crunch
The early bird gets the worm! Enjoy some of your Favorite BB offerings at a special price!
Monday thru Thursday from 4pm-7pm. Amazing value at $23.95 per person.
Power Lunch!
Take a break and experience our version of the power lunch.
All week long for just $12.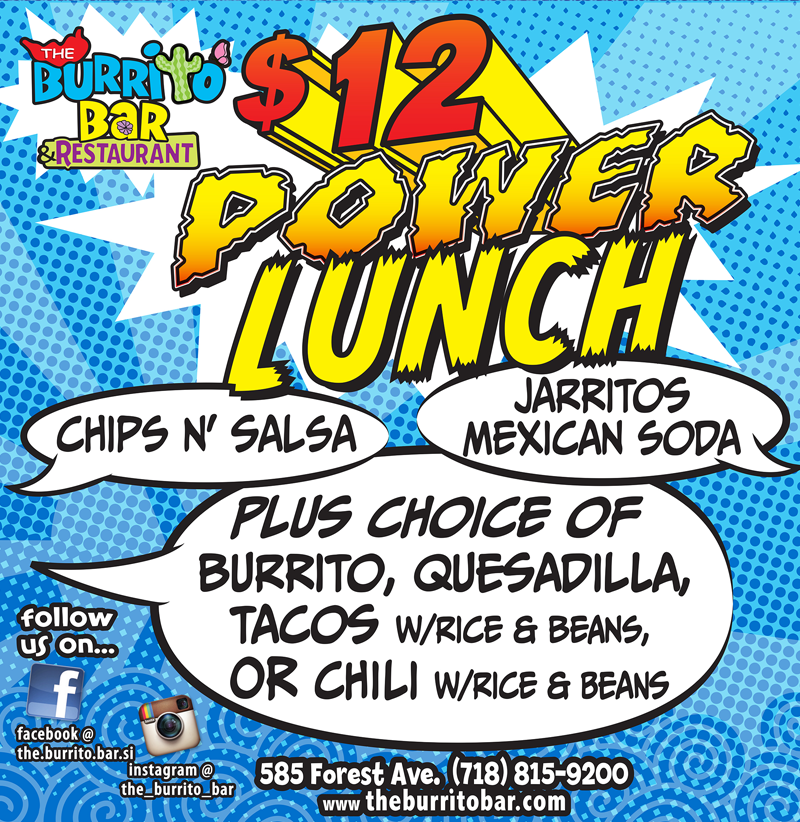 Taco Tuesdays!
Chill at the bar with tacos, cocktails, and cool vibes.
At the bar only from 5pm-9pm
Super Saturdays!
Party like a hero! 10pm-Close
$8 cocktails and snacks
Live DJ
$50 weekly gift card raffle
$8 cocktails and snacks
Sunday Brunch
It's famous for a reason... did someone say $3 cocktails?
Every Sunday from 11:30am-3:30pm with delicious plates and great drink specials!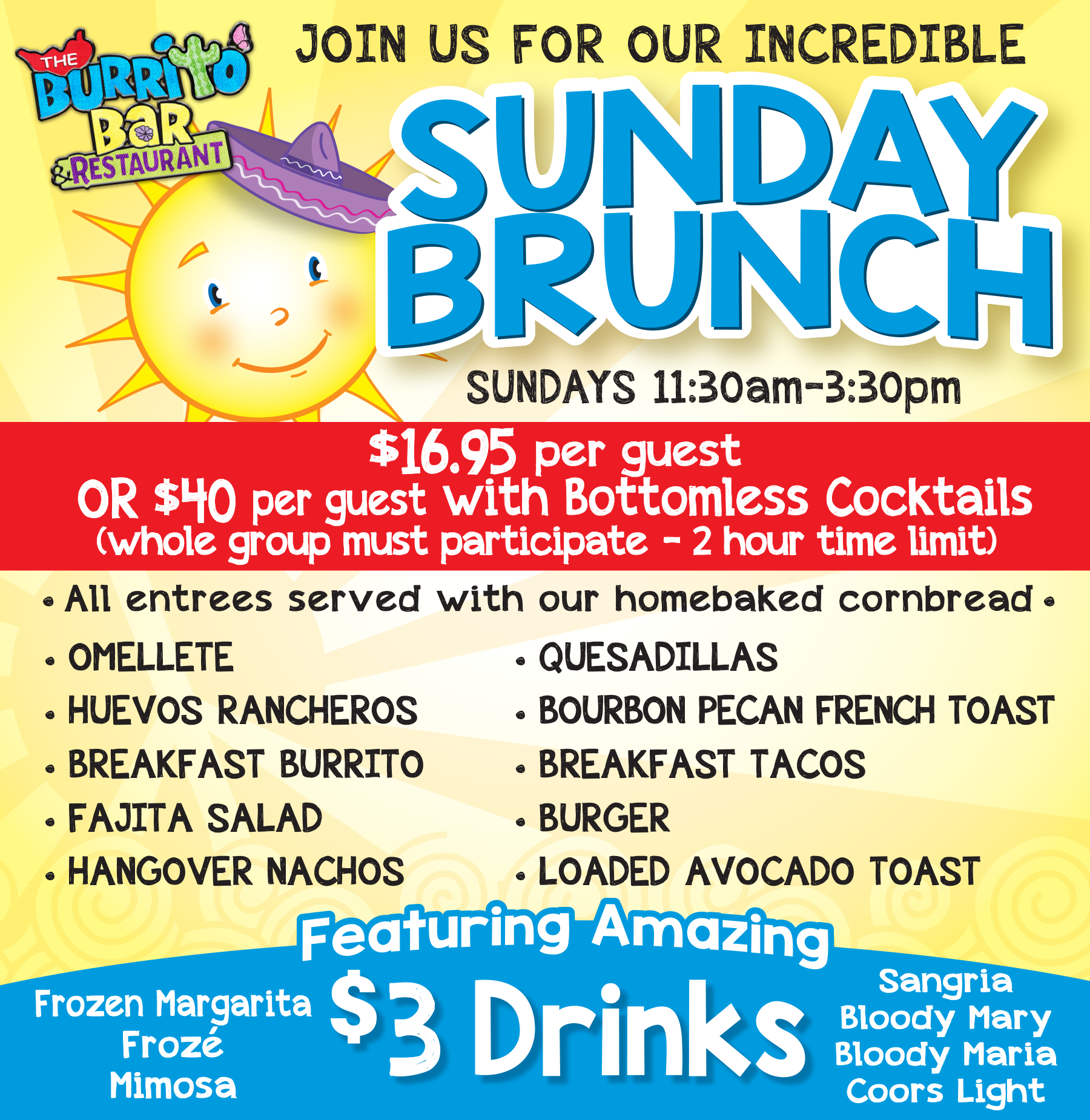 Special Events at The Burrito Bar!
Dog Day Afternoon
Hang Out with YOUR Best Friend!
Every Saturday on the Patio! Weather permitting.
• Water & Water Bowls (will be provided)
• $8 Frozen Margaritas & Sangria 12-3pm
• All dogs must be up to date with vaccinations remain on leash, and be WELL BEHAVED
Loteria Brunch on the Patio!
With your host Vinnie Medugno
Sunday July 23, 2023 Weather permitting.
• Unlimited Brunch Cocktails
• Brunch Entree
• FOUR Rounds of Bingo!
• $60. per guest includes tax and gratuities
Reservations
ALL reservations should be made by calling l 718 815-9200
PLEASE CALL FOR ALL RESERVATIONS (718) 815-9200. This form is being reformatted. We will do our best to accommodate.
Gallery
Some photos from Our Restaurant
Contact
Where to find us and how to reach us!
Location:
585 Forest Ave, Staten Island, NY 10310
Open Hours:
Kitchen Hours:
Sun until 9pm, Monday thru Thurs until 10pm, Fri and Sat until 11pm
Email: